Bringing New Life to Old Buildings
Balancing reverence and pragmatism, adaptive reuse is the process of re-purposing buildings that have outlived their initial function. Through conscientious renovations, entrepreneurs are able to cleverly return aging, under-performing structures to the modern market with viable, new uses.
In Frederick, this development practice has inspired a uniquely interactive quality in the City's historic character, transformed liabilities into assets, and sustained over two & a half centuries of economic vitality.
Below we take a look at just a few of the recent, current, and future visionary reuse projects shaping our City ...
Monocacy Valley Cannery
THEN: Major Canning Facility ..... NOW: Modern Office Complex
At the turn of the 20th century, Frederick experienced a boom in the canning industry, as the innovative food packaging technology answered rising demand from the expanding urban populations. Constructed to support the growing business, the Monocacy Valley Cannery building hosted hundreds of workers and facilitated the production of hundreds of thousands of canned foods a day. Nevertheless- following another shift in the economy - the once-productive plant was forced to close in the 1940's.
Transitioning fleetingly through several subsequent uses, the building sat intermittently vacant until purchased by Bert Anderson in 1999. Recognizing the structure's shell to be structurally sound and adaptable, Anderson -- the inspiring force behind Frederick's renowned Everedy Square and Shab Row -- set about restoring the site to once again becoming an impressive economic force at Frederick's east entrance.
Now, nearly two decades later, his resulting masterpiece serves as a modern office complex, home to First United Bank, RBC Wealth Management, Tribe Branding & Design, Union Track Inc., and most recently, DeLeon and Stang. The site's thoughtfully designed modern glass addition showcases the original brick and wood beams of the cannery. Inside, employees and visitors alike are able to marvel at the exposed wooden trusses and cathedral ceilings retained from the historic plant.
Available tenant space for the building is listed through Kline Scott Visco.
*Historic Cannery Photos Courtesy of Charlie Ross
New Spire Arts .... Under ConstructiOn
THEN: Downtown Dry Goods Store .... NOW: Community Theater & Arts Center
New Spire Arts, a nonprofit organization established in 2016 by the Ausherman Family Foundation, has undertaken a pair of downtown rehabilitation projects to facilitate a mission to provide accessible arts programming and education to the local community. In June of 2017, the organization opened doors to New Spire "Spaces" -- a conversion of classrooms which, in 1901, served Frederick's first female high school.
Just this past month, a groundbreaking ceremony kicked-off renovation efforts at a second historic location. The $5.2 million dollar construction project will transform the once- "Renner and Kemp's Drygood" store, into a contemporary performance center. When completed, New Spire Stages will feature a flexible black box theater seating approximately 250 people, and an amphitheater to accommodate informal recitals & community gatherings.
Catalyzing the Stages project, $3.2 million has been committed directly by the Ausherman Family Foundation. Additional notable contributions from The Nora Roberts Foundation, Randall Family Foundation, PNC Bank, and the State of Maryland have further closed the fundraising gap for this community-focused project.
Pythian Castle ... Under Construction
THEN: Private Club .... NOW: Luxury Downtown Condominiums
Guided by rising developer and owner of Gideon Properties, Michael Fitzgerald, renovation of the Pythian Castle began last fall. In its modern adaption, the grand building - which boasts a unique castle facade and an impressive, arched-ceilings - will host seven luxury condominiums.
At just 34 years old, Fitzgerald has already made a name for himself in Washington County, where he is currently a candidate for 'Business Person of the Year' in recognition for his work on the Professional Arts, and Grand Piano Buildings. He looks to make his mark in Frederick as he transforms the well-known structure that once served as a private club for the Knights of the Pythias, fraternal organization.
Ranging from $331,000 to $759,000, the Pythian Castle Condos have been placed on the market - with several already under contract. Work on the building is anticipated to be completed this spring.
Francis Scott Key Hotel
THEN: Luxury Hotel .... NOW: Business, Residential & Cultural Center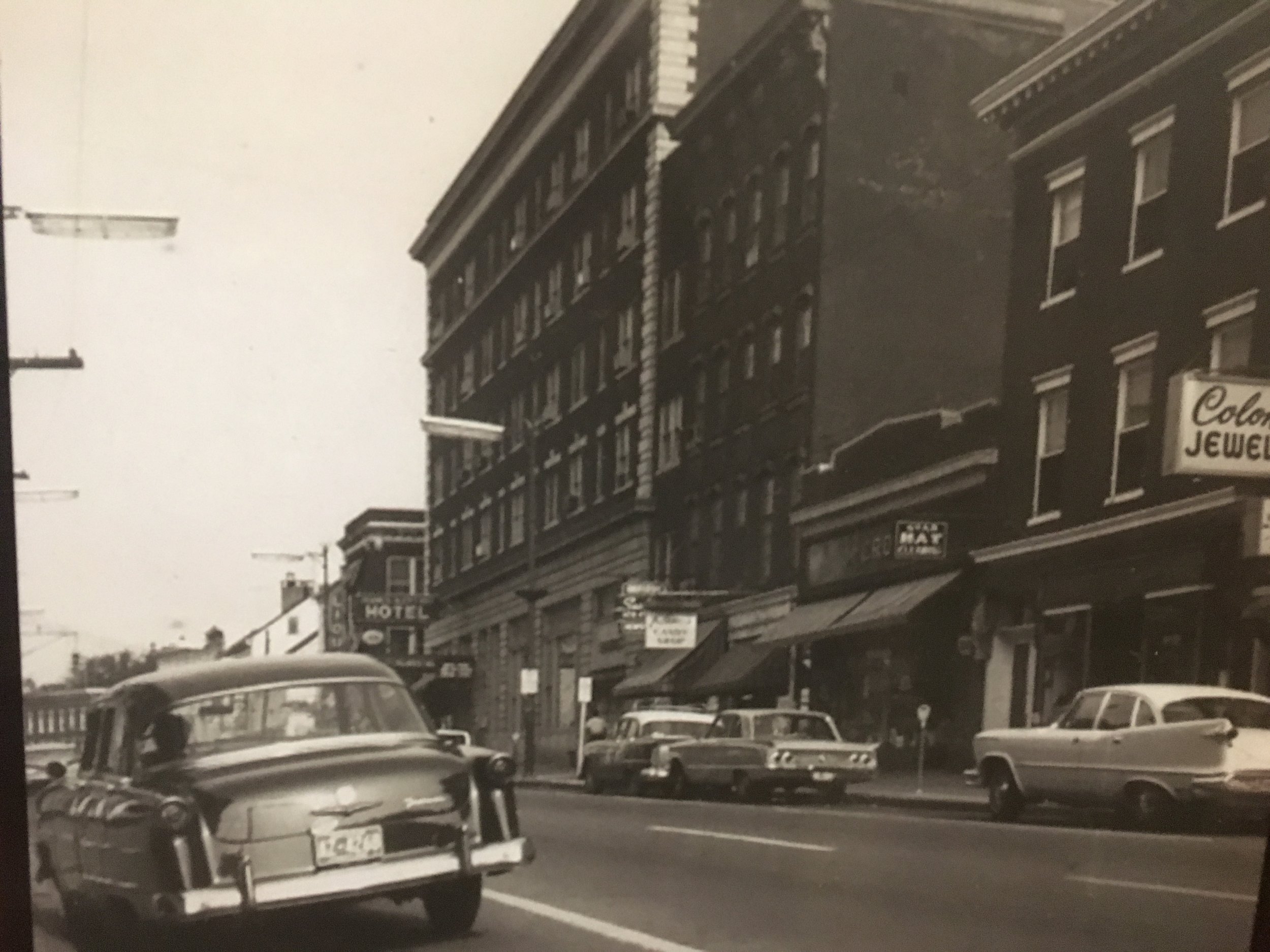 This magnificent, five-story brick building was established in the early 1920's as a luxury hotel, intended to attract affluent travelers from Baltimore, Washington, and Pennsylvania. For over 50 years, the hotel doubled also as a popular Downtown gathering place, hosting civic clubs, meetings, balls, and weddings in its large halls. When the market faltered in the 1970's, the hotel closed and the building was re-purposed for a time as a retirement home for Homewood Retirement Centers.
In 2002, the .62 acre property was again sold. The purchasing company invested $10 million to restore the building's exterior to its original 1920's appearance. The grand lobby, including the commissioned mural depicting Francis Scott Key famously witnessing the bombardment of Fort McHenry, was also preserved as a momentum of the past and an attraction for future tenants.
Today, the ground floor of the building serves a diverse range of businesses, including multiple law offices, an architectural firm, a wedding boutique, and a cafe, as well as the building's management office. Forty-six apartments in the upper floors are home to nearly 90 residents - making it one of the most densely populated buildings of Downtown Frederick. Attracted by the building's close proximity to the renowned Weinberg Theater, the lowest level of the building is home to the Maryland Ensemble Theater.
Barbara Fritchie House ... Coming Soon
THEN: Iconic Civil War Residence .... SOON: Period-style Bed and Breakfast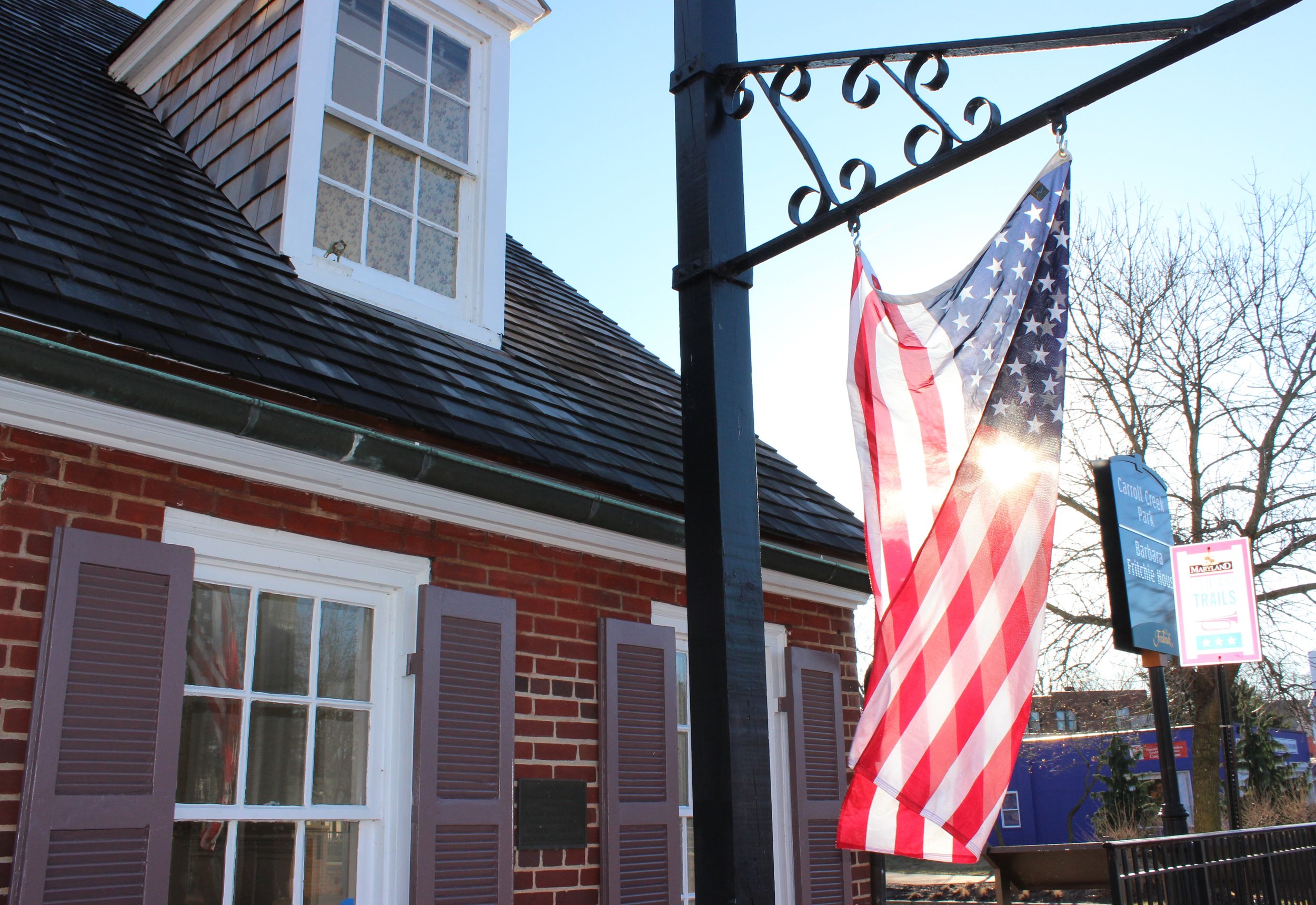 "Shoot if you must, this old gray head, But spare your country's flag" are the defiant words allegedly proclaimed from this window by a fiery, elderly maid as Confederate troops arrived in Frederick. Whether or not those words were actually spoken, matters not -- Barbara Fritchie and the house she lived in have remained a local icon for years.
The current "Barbara Fritchie House" is a recreation, built in 1926 after the original home was destroyed by a flood. Falling into slight disrepair, the home - which had for years served as a museum- was sold by auction for $200,000 in 2015. The purchasing investor, the Ausherman Family Foundation, spent over $40,000 in renovation to repair the roof and exterior facade, and briefly reestablished its function as a museum.
Last year, the building was again placed on the market. Creatively pivoting the site's traditional tourism attraction, the new owners - former alderman candidate Bryan Chaney and his wife, Charlotte - announced their plans to convert the space into a period-style bed and breakfast. Set to accommodate four to six visitors a night, the space is currently scheduled to be listed on Airbnb by this coming summer.
Union Knitting Mills ... Under Construction
THEN: Hosiery Factory .... NOW: Tech Hub and Creek-front Retail
Mid-way through its planned construction, tenants have already begun to flock to the 50,620 square foot building that once functioned as a woman's hosiery factory and a major employer of the Frederick area.
In addition to the building's own historic appeal, the Union Knitting Mills attractively sits adjacent to Frederick's recently extended Carroll Creek Linear Park. The $15.7 public pathway improvement and beautification project was designed to pull foot-traffic towards Frederick's rapidly developing east side and encourage private ventures, including the renovation of the abandoned Mill building.
Drawn to Douglas Development Corporation's compelling restoration work and the desirable location - two locally-based tech companies: Regent Education and Yakabod, will move a combined total of over 100 employees into the completed portion of the adapted building by early March.
Construction continues on what will soon become a retail component of the creek-front property. Jim Mackintosh, the real estate representative for the project, recently reported to the Frederick News Post that his company was in the final stages of leases with both a butcher shop and deli. In mid-January, Idiom Brewery announced it would also be locating at Union Knitting Mills.
Firehouse Engine Company ... Under Construction
THEN: Independent Hose Company .... NOW: Urban Office Space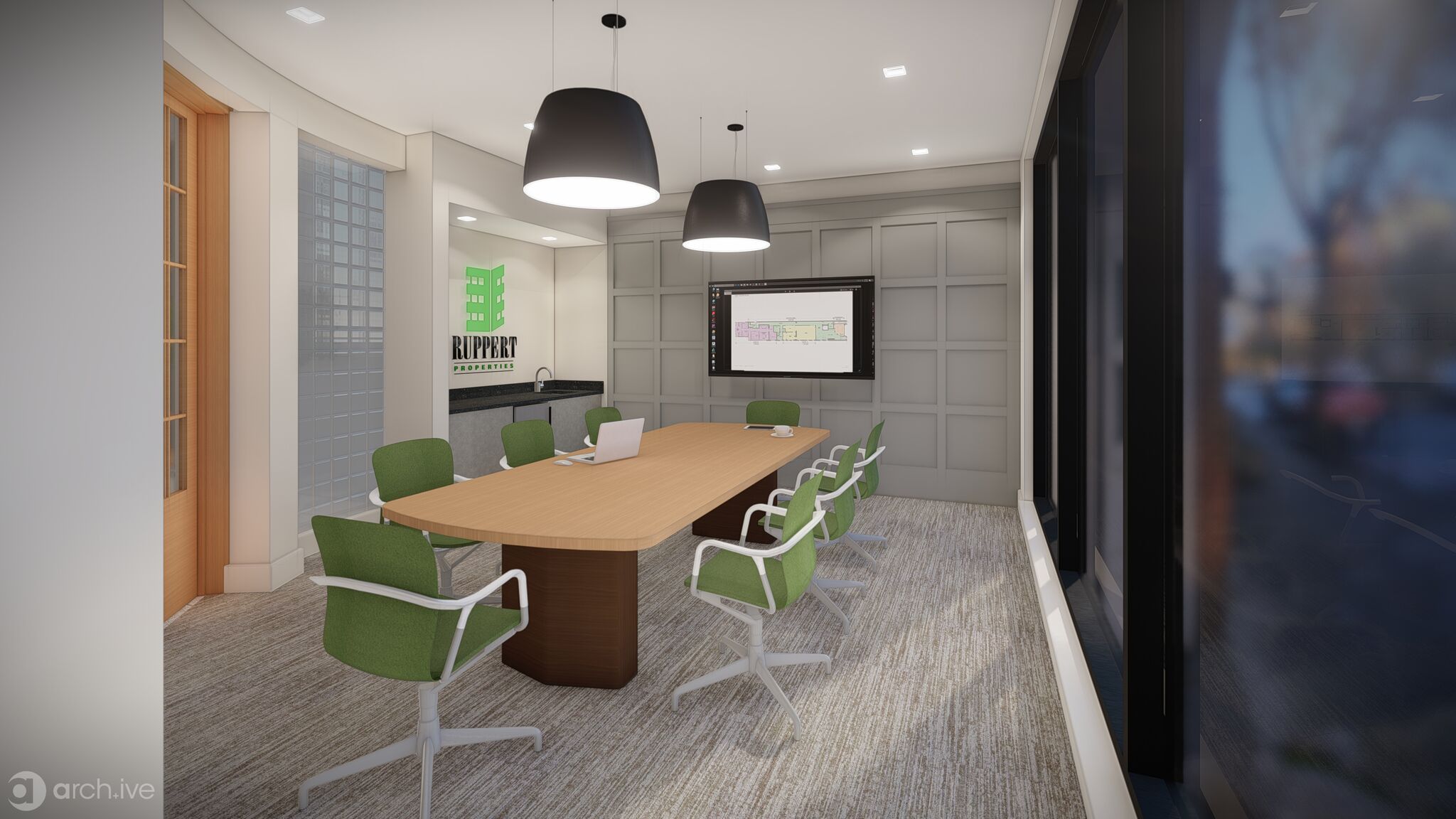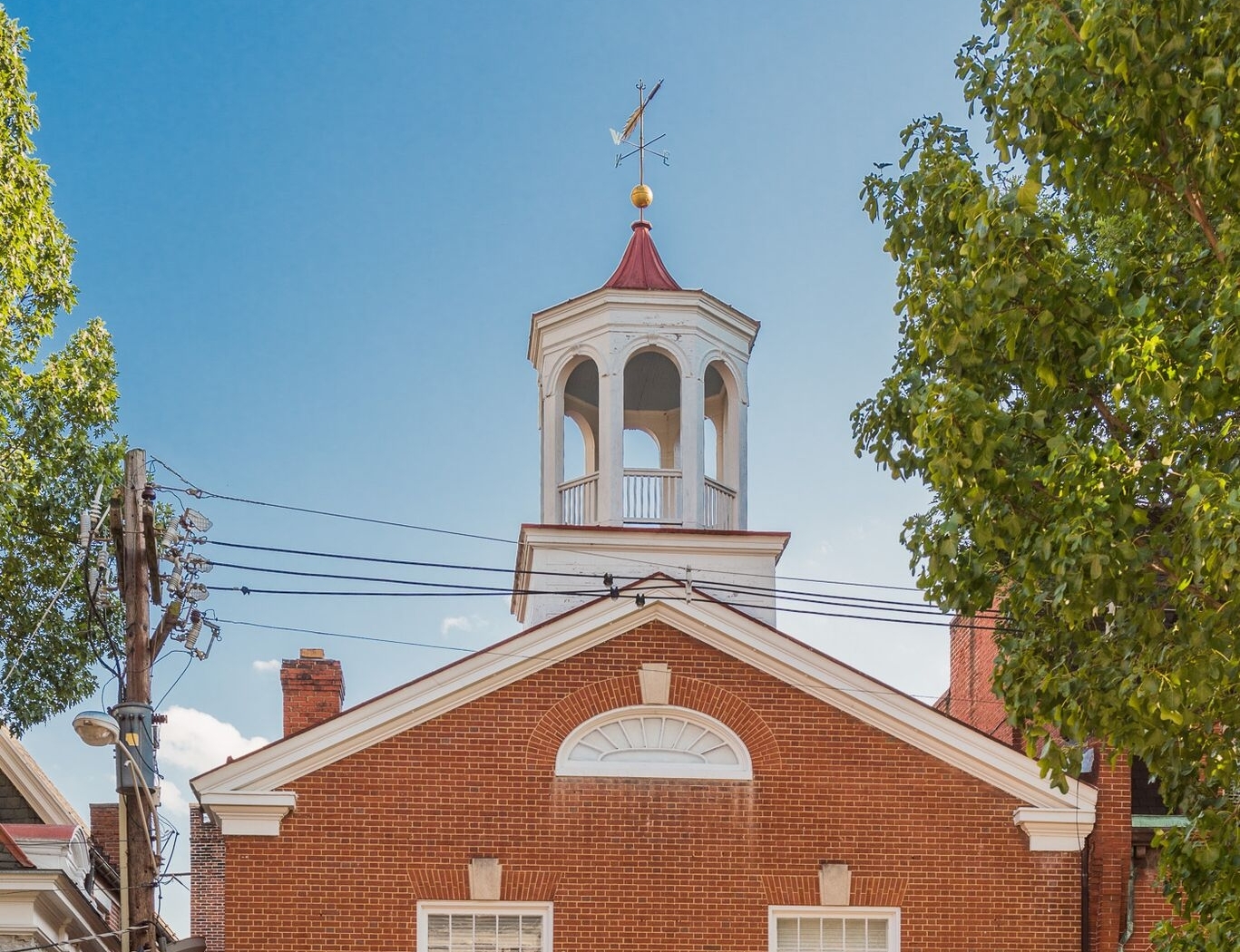 The same central location that once served Frederick's first emergency responders recently proved attractive to Ruppert Properties, a developer with a successful record of providing retro-styled office space in Frederick.
New design plans envision a completely remodeled interior. When complete in early March, the historic shell will feature a modern lobby, shared conference room, and five office suites ranging from 1,500 to 2,500 square ft. Ruppert Properties is also investing $40,000 in the overhaul of the Trinity Chapel courtyard adjacent to their property. The improvements will provide the building's tenants, as well as the members of the neighboring church, an outdoor space to enjoy during the warmer months.
Glass Factory
THEN: Cannery Glass Facility .... NOW: Upscale Office Condos
Jump-starting the modern trend to create attractive offices in former industrial spaces, Lyle Kleinhan's renovation project at the Glass Factory was one of the first of its kind in Frederick.
The 44,840 square foot structure was originally built by the Staley family as a cannery in the early 1900s. Later, it housed a tailor company, and a window factory before sitting vacant for years. Recognizing its dormant potential, Kleinhan purchased the building at the end of the 20th century, and, with the help of architect Gary Baker, transformed the space into upscale office condominiums. Constructing interior walls from hundreds of windows found onsite, Kleinhan paid appropriate homage to the building's history while simultaneously creating an attractively open, naturally-lit work space. Completing the masterpiece, he personally welded and built a multi-story fountain to adorn the lobby of the building.
Looking back, Nancy Green, the real estate agent who handled the initial sales and leasing of the property noted: "The owner took a decaying old building in total disrepair and adapted it into a truly unique and vibrant workplace. The Glass Factory is Lyle Kleinhans' gift to Frederick."
Today ten+ businesses - hailing from a diverse range of industries, including technology marketing, and financial services - are located in the Glass Factory building. Spaces occassionally become available in this renovated gem.
The Visitation Academy .... Coming Soon
THEN: All-girls, Catholic School .... SOON: Boutique Hotel
For nearly two hundred years, the Visitation Academy operated as a private, all-girls Catholic school. In 2016, due to low enrollment and rising costs, the academy was forced to close its gates.
Last June, the 3-acre site was bought for $2.75 million by O2J Visitation LLC, - a joint business venture by James O'Hare and Lance Jaccard of Annapolis and Washington D.C., respectively, and both well-experienced in adaptive reuse projects.
In a November of 2017, the owners announced at a Neighborhood Advisory Council meeting intentions of renovating the space into a small boutique hotel and restaurant. According the Frederick News Post report, O'Hare stated the developers were planning approximately 60 rooms for the hotel, priced somewhere in the low $200's per night.
*******
A Special Thanks to the Maryland Room Staff at FCPL
who lent incredible assistance in tracking down historic images of the featured sites